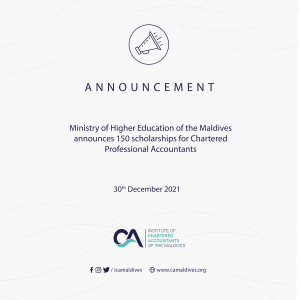 Ministry of Higher Education has announced 150 Scholarships for professional accounting courses in the Maldives.
Application for this scholarship is for those who has completed their First Degree or Master's Degree in the accounting profession.
Under this scholarship, application is open for ACCA Skill level, ACCA professional level, CIMA Management level and CIMA Strategic Level. A total of 150 slots are included in the scholarship. Out of which, 100 slots allocated to the private sector and 50 slots allocated to the public sector. The allowances included in the scholarship are the Registration fee, Annual Subscription fee, Exemption fee, Exam Fee and Tuition fee.
During the press conference held today at Ministry of Higher Education, Minister Dr. Ibrahim Hassan stated the importance of developing chartered professional accountants in the Maldives, and noted that during Maldives Accountants Forum 2021, President Ibrahim Mohamed Solih also emphasized the significance of government's role in developing this profession. Hence, this scholarship is a significant milestone towards strengthening the accounting profession in the Maldives. Minister also highlighted the collaborative efforts with MoHE and CA Maldives in opening this scholarship opportunity and thanked CA Maldives for the support.
We thank the Government and Ministry of Higher Education for providing scholarships and continuous assistance in promoting the accounting profession in the Maldives.
Deadline for the application of scholarship is 20th January 2022.
Click here for more information.