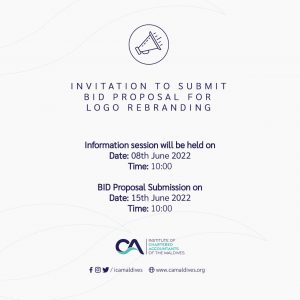 Institute of Chartered Accountants of the Maldives (CA Maldives) invites parties who meet the following criteria to submit proposal for Logo rebranding:
Be registered at the Ministry of Economic Development dedicated to delivering services or services related to the scope of work mentioned in 2 of the RFP
Have 2-year of work experience in the design field.
An information session will be held at Auditor General's Office (Ghaazee Building, 1st, Floor, Ameer Ahmed Magu, Male') on 08 June 2022 at 10:00 am.
Proposal submission will be on 15th June 2022 at 10:00 AM.
For further clarification about the information session, please contact CA Maldives at (+960) 3348234 or email to info@camaldives.org