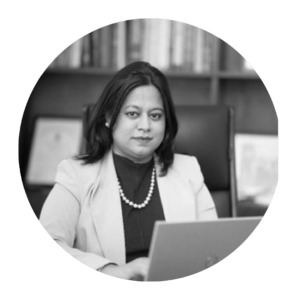 Ms. Maria Howlader FCA
Council Member, ICA Bangladesh
Maria Howlader FCA is a Fellow member of the Institute of Chartered Accountants of Bangladesh (ICAB). Maria Howlader is the first Female Director to the Board of Japan Bangladesh Chamber of Commerce & Industry (JBCCI). Maria Howlader has been serving as one of the Council Members of ICAB for consecutive 4 years from 2019. She served ICAB as a first female Vice president in the year 2021.
She is the Founder & Managing Partner of Howlader Maria & Co., Chartered Accountants (Member Firm of KRESTON Global) which is the 1st Female Founded CA Firm in Bangladesh.
Maria Howlader's more than 15 years in Bangladesh Accounting & Audit practice have been devoted to looking after start-up businesses, foreign companies, and local conglomerate, whether as auditor, accountant, tax consultant or adviser on corporate transactions.
She Extensively works as Foreign Direct Investment Advisor and trusted advisor for Startup and SMEs and Women entrepreneurs. She has been passionate and instrumental in supporting women entrepreneurs and empowering women in leadership.
She was the Chairperson of Women Leadership Committee in South Asian Federation of Accountants (SAFA) for year 2021, 2022. She has been extensively working for strengthening the audit practice of Bangladesh.