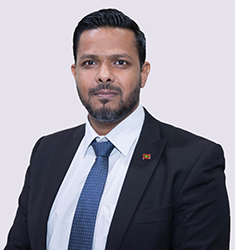 Mr. Hassan Ziyath served as the Auditor General of Maldives from 2014 – 2020. His accountancy career began with KPMG and has over 20 years of industry experience across various leadership positions including the Director of Finance and Fund Management at National Pension Fund.
During his tenure as the Auditor General, the first ever professional accounting body of Maldives was established following the ratification of the Chartered Accountant's Act 13/2020.
As the first President of the Chartered Accountant's of Malddives (CA), Mr. Hassan Ziyath spearheaded the institution building process which included the establishment of the governance, stakeholder engagement and strategic planning process. His charismatic leadership and the determination always will remain as an inspiration to this Institute and its members.
On behalf of the Institute, we thank Mr. Hassan Ziyath for his invaluable contribution to CA Maldives and the accounting profession.