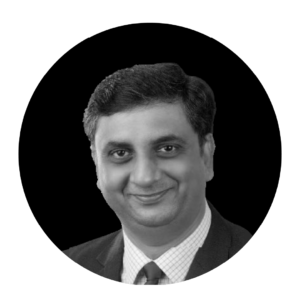 Mr. Vishal Doshi
Central Council Member, ICA India
Vishal is a Central Council Member of The Institute of Chartered Accountants of India (ICAI) for 2022-25. He leads the Audit & Assurance practice of K C Mehta & Co LLP, Chartered Accountants, Vadodara and has more than 25 years of professional experience.
Vishal looks after the Assurance functions of listed companies, government companies, multinational companies & large corporates. He also specializes in convergence from Indian GAAP to Ind-AS / IFRS and has successfully led some very prestigious Ind-AS implementation and convergence projects in oil & gas, power, infrastructure and manufacturing sectors.
Vishal has made presentations on Ind AS / IFRS, Accounting Standards, Standards on Auditing, ICAI Guidance Notes, Code of Ethics, Practice Management for SMPs, AS vs. ICDS, Companies Act, Schedule III, CARO and host of technical and non-technical subjects at various seminars, workshops, Certificate & Intensive Courses of the ICAI, WIRC, its Branches and Study Circles and other academic institutions.
To his credit Vishal has been awarded Rashtrapati Scout Award by Shri K. R. Narayanan, Hon'ble President of India. Presently, he is appointed Expert member on the Board of Studies in Accounting & Financial Management (Faculty of Commerce) for the term 2020-23 by the Maharaja Sayajirao University of Baroda.